When it comes to addressing challenging student behavior, mindset matters! What if we thought about and responded to behavior challenges the way we do academic challenges? Use this poster as a guide to compare common approaches to academic vs. behavior challenges, and learn new ideas for improving the way we address challenging behavior.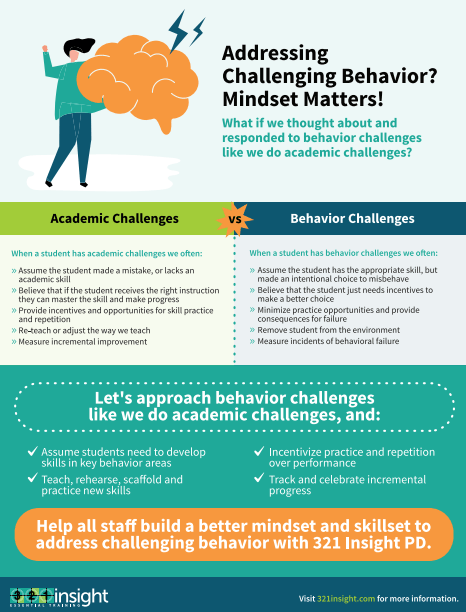 What Makes an Effective Paraprofessional?
Paraprofessionals support students with the most challenging behaviors, yet they often receive little or no training in best-practice behavior strategies. Use this guide to assess the needs of your paraprofessionals and develop an effective approach to set them up for success.
Building Strong Teacher-Para Partnerships
Strong teacher-paraeducator partnerships are the foundation of a successful learning environment. Use these strategies to help develop effective partnerships that support and benefit all students.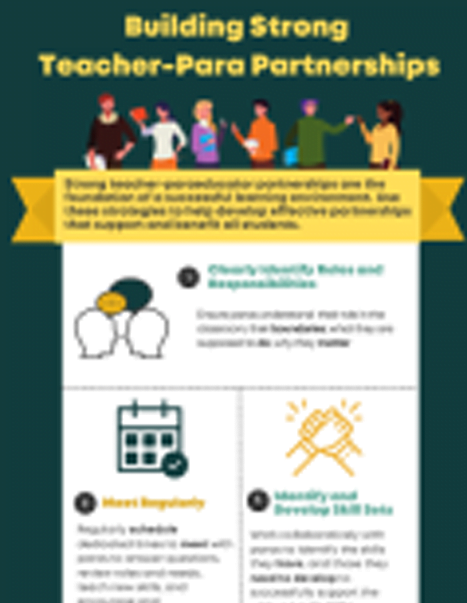 Trauma-Informed Leadership: A School Leader's Guide To Building A Culture Of Well-Being
School leaders across the county are facing a common crisis. The ongoing pandemic, personnel shortages, increases in mental health issues, and an unprecedented spike in behavior challenges have left staff feeling demoralized and in need of strong leadership. This hands-on guide provides leaders with proven strategies that can be immediately implemented to help staff and students overcome today's challenges. Use this guide to review your current district or school environment, assess staff needs, and develop a viable plan for building a school or district-wide culture of well-being.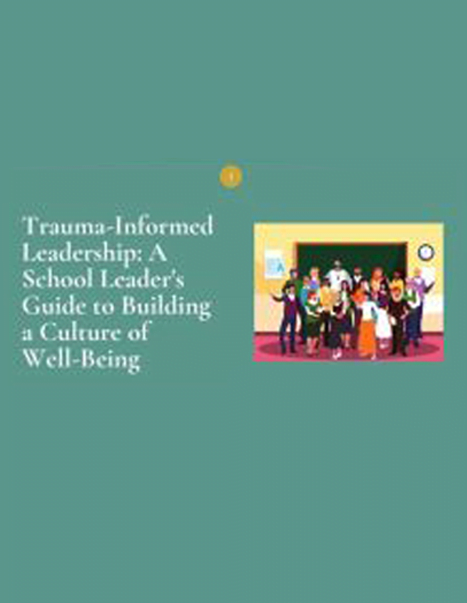 How To (Re)Connect And Build Strong Relationships With Students
This is a challenging and isolating time for both educators and students. Educators struggle with increasing behavior challenges, and students continue to feel disconnected and alone. Use this poster to guide staff to engage in active listening, practice patience, and more to build strong relationships with students.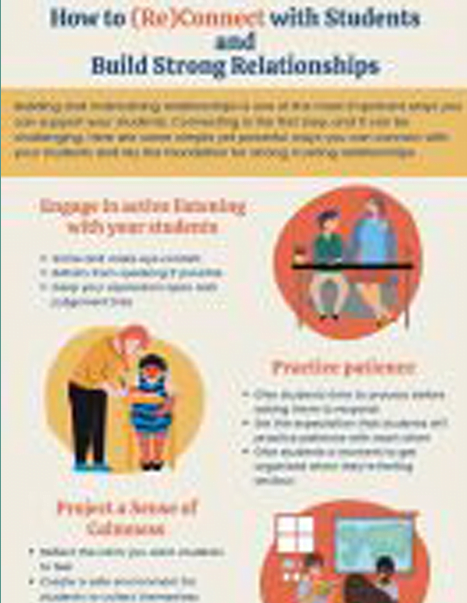 Social Emotional Learning Starts With Adults
Social and emotional learning (SEL) builds a foundation for success that impacts all areas of life, especially academics. Educators can support student development of strong social emotional skills when they understand and can model them well. Adults and students with strong SEL skills are better able to understand and manage their emotions, persevere, and overcome obstacles, and achieve challenging goals. Use the strategies in this poster to help deepen your understanding of SEL competencies and how to model them for your students.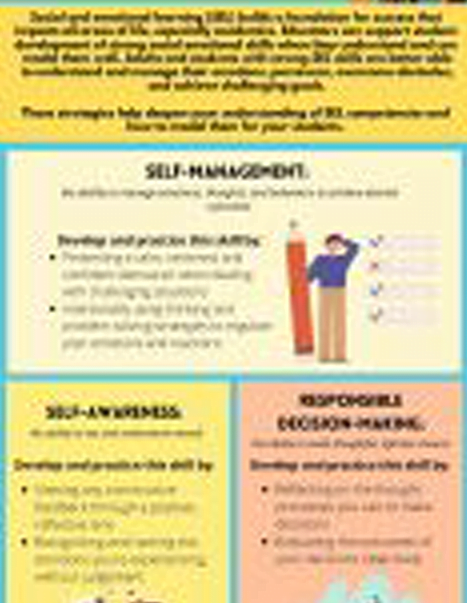 5 Strategies For Educator Wellness
These are challenging times, and students need us more than ever. Share this guide with staff to give them five strategies to use when they are feeling stressed or dysregulated.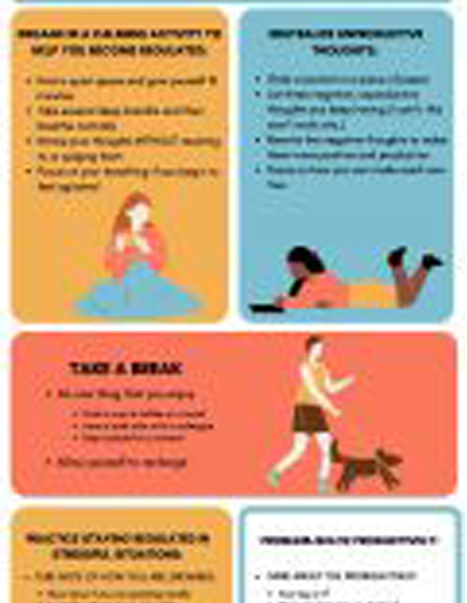 Behavior Challenges You May See
The combined impacts of a global pandemic, socio-political pressures, the increased reliance on electronics, and the already staggeringly high levels of trauma and adversity in K-12 students, all lead to chronic stress and increased levels of dysregulation. Use this guide for helpful strategies to address common behavior challenges.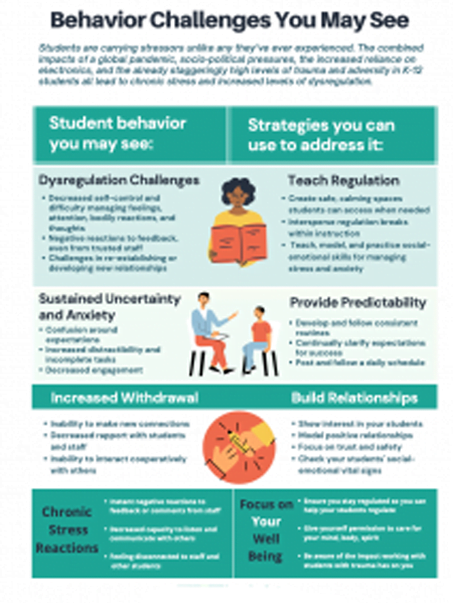 Trauma Informed Schools: The Foundation Of Well-Being
A trauma-informed culture creates the foundation for staff wellness, and academic and social-emotional success. Download this great tool to guide your planning for next school year.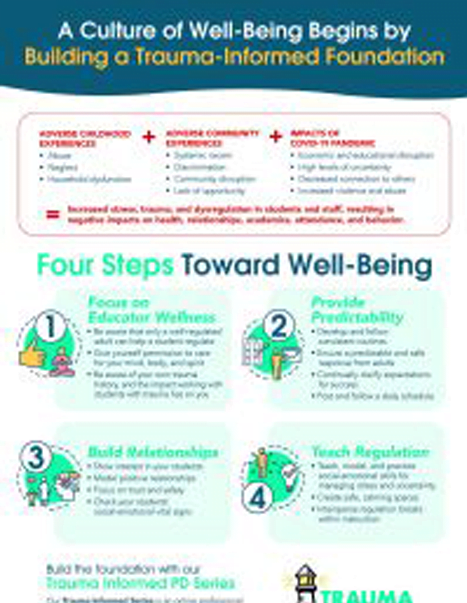 5 Steps To Help Paraeducators Think Differently About Challenging Behavior
Paraeducators play a crucial role in the education of students, including those most in need of additional support. On the front lines every day managing challenging student behavior, these educators often do not often receive PD to fully understand the cause of challenging behavior or how to address it. This guide outlines professional development that is centered on five mindset shifts that can help your paraeducators think differently about challenging behavior and how to more effectively support all students.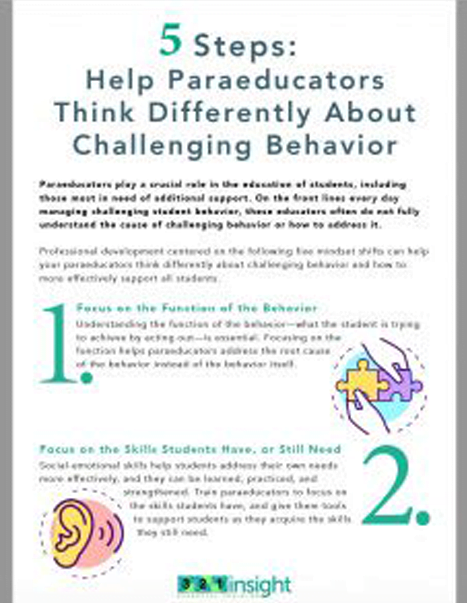 What Makes an Effective Paraprofessional?
Paraprofessionals play a critical role in our schools, supporting students with challenging behavior, yet rarely receive sufficient training. Our latest downloadable poster features the 8 key skills paraprofessionals should possess to be most effective with students, and can guide your training efforts.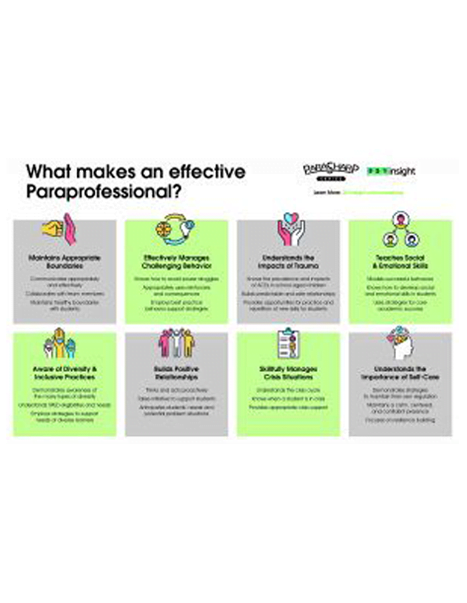 3 Steps to Help a Student Regulate
This poster is a great reminder of not only the importance of regulation, but the adult's role in helping students become regulated and ready to learn.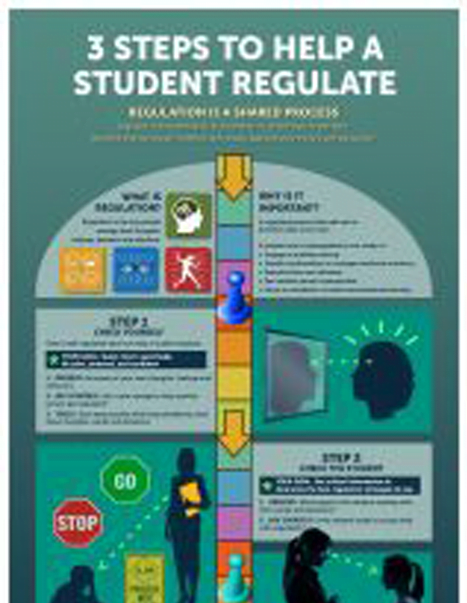 Trauma Informed Schools During COVID-19
Our latest infographic features information, ideas, and research-based best practices to use to apply a trauma-informed approach, both in-person and via distance learning.
SHIFTING MINDSETS: Training Paraeducators To Think Differently About Challenging Behavior
Why do school districts continue to put paraeducators in positions to support students with challenging behaviors and provide little to no training in best practice behavior strategies? This guide focuses on the most critical topics for paraeducator training.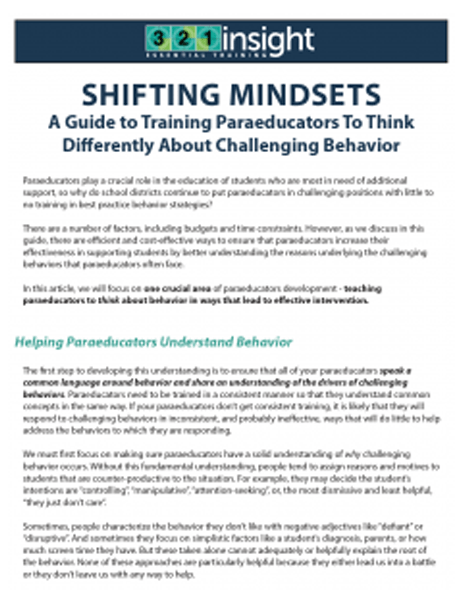 BETTER TOGETHER: A Trauma Informed Approach to Social and Emotional Learning
Although they are commonly thought of as two separate intiatives it is worthwhile to ask the question, "Can Social and Emotional Learning (SEL) and trauma informed practices support student growth more effectively when they are implemented together?" We think the answer is yes!